As of January 2021, 59.5 percent of the world population is connected!
With the assistance of the Internet, we are directly connected to 4.66 billion potential customers and the great news is that it is done with no hassle. 
What you need is the right website. Without you knowing, your business is read, appreciated and dug up by half of the world's population if you have chosen the right website.
If we say that the Internet world is already half-full, we can also say it is still half-empty. Thus, there is still space for people and places getting online.  Internet access is so much in demand in this modern world that we could not live without it. 
Let's look at the Internet consumption of the Malaysian population.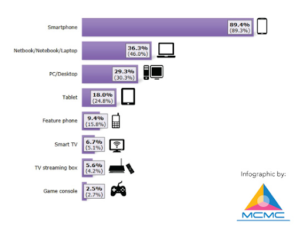 How Malaysians access the Internet
What Malaysians are doing on the Internet
However, the potential to have thousands of visitors and actually having them are two different things. The success of an online business depends on the same thing as any offline business, i.e., effective marketing.
So, take the time to sit back, put your feet up, and think about what you could do with a worldwide marketplace for your business.
Why Online Business?
With the current robust technology, relying on brick-and-mortar business models is no longer suitable. We cannot wait for customers to come and walk-in to our business premises anymore. If we wait for customers, other business competitors may grab the opportunity before we do and we may lose business.
While others have equipped themselves with online business methods which are convenient, fast, less hassling, and time and cost-efficient, we are still waiting for customers to come and walk in? Think about this.
It is time to CHANGE the way we do our business. We need to acknowledge that putting our business online will portray a good and strong business image to customers. It is very important to have a website, blog, or online effective presence.
This will show how serious we are in doing our business. Online business does not necessarily mean we need to be big. A small start-up business also should engage with the online presence. 
Online business employs a few kinds of business models, namely business-to-consumer (B2C), business-to-business (B2B), and most recently, consumer-to-consumer (C2C). 
Business-to-consumer and business-to-business models typically sell goods and services or provide information designed to help visitors make purchase decisions. Consumer-to-consumer models involve consumer-to-consumer information or product exchange. 
Online Business Advantages
Running an online business normally requires minimal startup costs and this suits business beginners on shoestring budgets. An online business would not need a specific business premise or a vehicle and neither does it need many assistant staff.
What is most important is a good website. A good sales website and video promotion will help to save a lot on the cost of hiring full-time salespersons. It will also create new brand awareness. Additionally, we can design our own free website using free available online platforms. Once it is set up, the business will run on virtual autopilot. 
Twenty-four-seven (24/7) hour availability is one of the reasons why businesses should go online. Online access enables us to market our business to the customers even when we are on vacation.
Our prospective clients could literally be just one click away from our business and would still be able to place orders regardless of time. There would be no time zone restrictions.
Besides, the online presence enables us to provide continuous business support to our customers with information that they are looking for without having to contact us. This means less phone calls and thus, we could save time and focus on sales and other important issues. 
Another aspect of online business effectiveness is company responsiveness. The Internet allows us in many cases to handle business almost instantly with our client. It provides real-time payment. 
With a competent business online application, the proposal, the purchase order and the process of orders are attended to very quickly. Furthermore, we are able to track our orders, sales and inventory very easily and accurately.
Therefore, it allows for quality response time and hence will give satisfaction to our customers. As a result, they will come back for repeat orders and stay loyal to our company.
Online Business Disadvantages
Despite having a variety of advantages, such as the low startup costs, minimal upkeep, and the ability to transcend geographic and even language-related barriers (by using Google translator, for example), doing business online also has several disadvantages that could limit its success.
One of the most significant disadvantages of business online is that it requires the owner to have a general knowledge of computers and the Internet.
Obviously, many online businesses have their own website, so they need to have some knowledge on how a domain name is purchased, equip themselves on how the domain name works in relation to the email address, and how to design and publish a website.
We need not forget that other business online competitors will also have the opportunity to target our prospective customers. This happens due to Internet expansion and the increased reach of a business to the entire world wide web. The world has become borderless.
Threat of copyright is another major issue experienced by online business operators. Currently, Internet law does not provide the same protection for copyright infringement, unlike for traditional, offline businesses.
Until laws on the Internet are enforced thoroughly, slogans, ideas, design, logos and content are unprotected when doing business online. 
Lastly, online business operators may also face security issues. Websites could be hacked and compromised, leading to violation of customer information.
Azizah Md Nor
Senior Lecturer, City University Malaysia